Welcome to Walkerpedia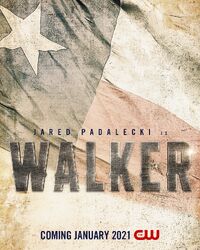 Cordell Walker is a man finding his way back to his family while investigating crime in the state's most elite unit. Our broken widower and father of two returns home to Austin after being undercover for two years for a high profile case – only to discover that there's even more work to be done at home. In a nod to the original series, Walker and his new partner — one of the only women in Texas Rangers' history — are the modern day heroes our world needs, following their own moral code to fight for what's right, regardless of the rules.
Walker season 1 is coming to The CW in 2021.
New series
The new series Walker starring Jared Padalecki will be coming to The CW in January 2021.
Original series
The original series Walker, Texas Ranger starring Chuck Norris aired from 1993 to 2001.
About the wiki
Walkerpedia, founded May 2009, is an encyclopedia run and maintained by fans, for fans, and we're dedicated to building a comprehensive and informative resource about all things related to Walker, Texas Ranger and the upcoming reboot Walker.
Sign up
for a free account and start
editing
today!
Twitter
Community content is available under
CC-BY-SA
unless otherwise noted.